Who can even begin to describe what fun we had on today's Friday BeerBuzz holiday spectacular.  Nothing says holiday fun like over extending ourselves, so in fine holiday fashion we decided to do a 1-Hour show.  We marched in four different beers, two vertical tastings, two beer & food pairings, four guests, four show videos and four different BEER CAM movies! 

As frightening as that may sound I can assure you it was even more daunting than it sounds…BUT of course we had a great time, a ton of fun, some amazing beers, some incredible food, and some wonderful guests to help it all along.

Our beloved Vince Sweeney joined the regular Friday BeerBuzz cast, and Mrs. BeerBuzz joined in for the holiday beer fun and frivolity.  We also invited in some special guests for a beer & food pairing with Dave & Teddy from AuRants.  Add to that a festively decorated studio, and we were ready to roll.


In segment one we sampled one of my favorite non-traditional Holiday beers, Sierra Nevada Celebration Fresh Hop 2010.  As if that wasn't fun enough, we rolled in some 2007 Sierra Nevada Celebration for our first vertical tasting segment.  We all loved the 2010 more than the 2007, but it was an interesting contrast of flavors for sure.


For segment two we invited in Chef Dave Ciminelli & Teddy Kerpovich from AuRants in Duryea.  Dave's food is always amazing, and Dave and I chose The Bruery Three French Hens as our beer.  Dave then created a delicious polenta-based deconstructed won-ton cigar dish with home made spiced dipping chips.  Dave used the actual beer in the mix so the pairing was perfect.  Tune into the video and watch as we all end up covered in crumbs and wowed by another Davo creation.  The beer was tasty and the pairing impeccable.


We launched segment three with another non-traditional holiday ale as I brought out Port Brewing Santa's Little Helper Russian Imperial Stout.  This was the perfect compliment to our previous beverages and food and a wonderful chewy warm winter stout.  I've been a huge fan of Port Brewing beers ever since we started attending their Real Ale Festival in Carlsbad, CA and it was a real joy to share this beer with the crew.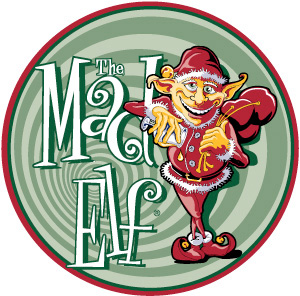 How do you end such a wonderful holiday special show?  In segment four we put a fitting exclamation point on the festivities by rolling out Troegs Mad Elf in a 2-year vertical tasting and then paired it with Mother BeerBuzz's almond Christmas Tree cookies.  An amazing mix and an amazing finish to a fun holiday show.


We ended the show recounting our favorite beers of the year and recounting all the great beers and guests we've had the pleasure to feature on the show.  In the end it was quite an adventure and a very funny show.  We had so much fun doing this show I hated to see it end.  Thank you to Dave & Teddy from AuRants, our beloved Vince Sweeney, Katie & Bosco for engineering the show and music, and of course to Nancy, John and Joe for making the Friday BeerBuzz so much fun.  It's been a great 2010 on the Friday BeerBuzz and I thank everyone involved.


The Friday Beerbuzz…bringing good beers and good people together. 
As always you can check out the video on-line at the WILK Friday Beerbuzz page by clicking HERE
.